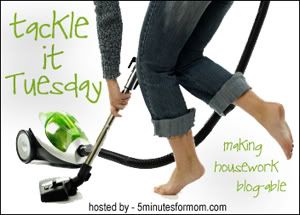 I really like the idea of this feature at 5minutesformom.com. So, I thought that I would participate. I am not sure if I qualify this week since I don't have pictures but, I thought I would share what I did this weekend.
Since my mom moved in with us last year, we have borrowed a bed from my in-laws for when my older daughter comes for a visit. Since their 50th wedding anniversary party is next weekend, they have many visitors coming and they needed their bed back. So, we first returned the loaner and then we picked up the new bed.
I got a great deal on this by keeping my eyes and ears open. I was over at my sister-in-laws for a plant exchange. While there I took a tour of her newly purchased furniture and asked what she was doing with her old bed. When she said she was putting it in the rummage, I asked if I could buy it. $25 later I had a mattress, box spring and frame. You can't beat that with a stick.
With the exchanges in place, I took the opportunity to clean the walls and the carpet in that room. I am embarassed to say that the last time I did that was when we put the nursery together...4 1/2 years ago!!! Yikes!!! But, it's tackled now and that's the point, right?